El 4 de Julio es el día de una de las celebraciones más grandes del pais, es el dia en el que se celebra la Independencia de los Estados Unidos de América, y aquí en Philadelphia, por ser una ciudad histórica, las celebraciones son muy especiales.
Los visitantes que llegan de todos lados del pais, vienen a Philly a conocer de cerca la famosa Campana de la Libertad, el Independence Hall en donde se firmaron tanto la Declaración de la Independencia como la Constitución, La Casa de Betsy Ross, el Museo de la Revolución y muchos lugares históricos que puedes verlos haciendo un click AQUI.
A todos estos lugares que hacen de Philly una ciudad muy especial,  se suma la gran celebración anual Wawa Welcomes America, el cual es un festival de seis dias que va este año desde el 28 de Junio al 4 de Julio. Casi toda una semana de eventos completamente gratuitos, música, museos, eventos multiculturales, exhibiciones, estrenos de películas, eventos educativos y más.
Puesto que la lista es demasiado larga (son más de 50 eventos), les resumo un poco de los eventos más atractivos para ir con toda la familia durante esta semana de celebraciones.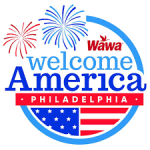 ---
Wawa Hoagie Day (28 de Junio)
Este evento da inicio a las celebraciones del 4 de Julio. ¡Hoagies gratis para todos! Esto se realiza en las afueras del National Constitution Center en el Independence Mall que a propósito ese día ofrece el ingreso gratuito a sus instalaciones gracias a Wawa, y estará abierto de 9.30 a.m a 8.00 p.m. 
---
Peliculas
Philly@The Movies presentado por St. Christopher's Hospital for Children and Hahnemann University Hospital
Lugar: Dell East Music Center
Fecha y hora: Jueves 28 de junio a las 7 p.m.
Lugar: The Piazza at Schmidt's Commons
Fecha y hora: Viernes 29 de junio a las 7 p.m.
Lugar: Pennsylvania Convention Center
Fecha y hora: Sábado 30 de junio a las 5 p.m.
Lugar: En las escaleras del Philadelphia Museum of Art Sunday
Fecha y hora: 1ro de Julio a las 7 p.m.
Lugar: Xfinity Live!
Fecha y hora: Lunes 2 de Julio a las 5 p.m.
---
Conciertos en el Independence Hall
Gospel on Independence – 1ro de Julio

Kimmel Center's Boradway Philadelphia on Independence, con música y canciones de los shows de Broadway que vienen al Kimmel Center – 2 de Julio

POPS on Independence – 3 de Julio
---
Museos Gratuitos
Dieciocho museos e Instituciones culturales de Philadelphia abrirán sus puertas  libre de costo, o 'pague lo que quiera".
National Constitution Center – Jueves 28 de Junio

Penn Museum y el Eastern State Penitentiary Friday – Viernes 29 de junio

Independence National Historical Park First Bank of the U.S., Free Library of Philadelphia Rare 

Book Department, The Rosenbach, Philadelphia History Museum y Pennsylvania Academy of the Fine Arts Saturday – Sábado 30 de Junio

One Liberty Observation Deck, The Barnes Foundation, Fort Mifflin, Philadelphia Museum of Art y el African American Museum in Philadelphia – Domingo 1ro de Julio

The Mutter Museum y Philadelphia Museum of Art – Lunes 2 de Julio

Rodin Museum y The National Liberty Museum – Martes 3 de Julio

National Museum of American Jewish History – Miércoles 4 de Julio
---
¡Fuegos Artificiales!
Ya en el 2017 Conde Nast Traveler incluyó a los Fuegos artificiales de Wawa Welcome America en la lista de los 4 mejores del país, y este año estos serán mucho mejores y ¡más grandes!
El sábado 30 de Junio a las 9:30 p.m. en el Delaware River Waterfront

El miércoles 4 de Julio a las 9:30 p.m. en el Benjamin Franklin Parkway siguiendo al concierto de Pitbull. Presentado por NBCUniversal y Pyrotecnico.
---
Picnic en Valley Forge
Y si prefieres alejarte un poco de la ciudad, el mismo 4 de Julio se realizará un Picnic muy especial en Valley Forge National Historical Park – también como parte de Wawa Welcome America.
Valley Forge National Historical Park tiene organizado un American outdoor picnic y BBQ con música en vivo. Los niños pueden unirse a la armada Continental, realizar juegos interactivos como "Secrets & Spies", hacer arte,  manualidades y más. Historias contadas en persona, demostraciones y tours del parque que traen al parque de vuelta a los tiempos de las batallas.
---
Escultura en arena
Sand Sculpture Spectacular – Los campeones internacionales de escultura en arena John Gowdy and Matt Deibert una vez más crearán una escultura en arena Sand Sculpture Spectacular en la Rotunda de The Shops at Liberty Place.
Usando 40 toneladas de arena, realizarán la escultura de momentos icónicos, lugares y simbolos que conmemoran el aniversario número 100 de la conocida avenida Benjamin Franklin Parkway.
Lugar: Liberty Place. La escultura debutó el 20 de Junio.
---
Los eventos y actividades como lo dije al principio son variados y tienen para elegir lo que más les podría gustar, toda la información detallada la puedes encontrar en el brochure de Wawa Welcome America que también lo tienen en español.
Philly te espera para celebrar el 4 de Julio ¡a lo grande!