"Without music life would be a mistake"
"Sin la música, la vida sería un error"
Es una hermosa frase inspiradora dicha durante la película "Here comes the boom" por el profesor de música (Henry Winkler) de la escuela secundaria en donde Scott Voss (Kevin James) es el profesor de biología.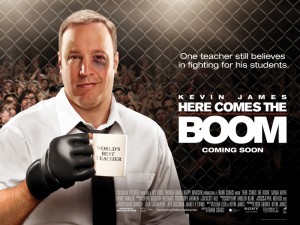 La historia comienza cuando la escuela amenaza con cancelar los programas extra curriculares incluyendo la clase de música. Es entonces, cuando Scott se ofrece a recaudar fondos y hacer lo imposible parar ayudar a su amigo el profesor para que éste no se quede sin trabajo y además quien a una edad avanzada tiene a una esposa embarazada y por lo tanto a una familia que mantener.
En su meta por obtener el dinero que la escuela necesita, Scott decide convertirse en un luchador de box. Sus amigos cercanos creen que es una locura sin embargo luego lo apoyan hasta cumplir su objetivo.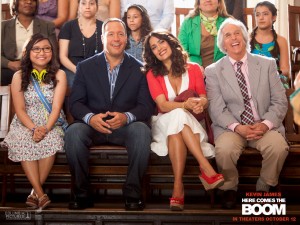 En la película también actúa Salma Hayek quien hace de la enfermera de la escuela y amiga de Scott con la que luego nace algo especial.
Si eres de los que gustan de la acción, esta película es para ti. La historia es muy bonita y se enfoca en el verdadero valor de la amistad y en el apoyarse el uno al otro, pero les advierto que hay muchos golpes que ver en el transcurso de la película, y aunque es más comedia que drama, no es apropiado para los niños.
Previo en Philadelphia
Durante el previo de la película en Philadelphia pudimos ver a Kevin James en persona. Para mi él todavía es el "Zookeeper" porque fué una película familiar que él protagonizo el año pasado y que mis hijos disfrutaron mucho.
Kevin James es una actor que desborda mucha energía y una chispa particular en sus películas. La primera vez que lo vi actuando en tv fué en la comedia "King of Queens" como el divertido esposo siempre en su uniforme de ups.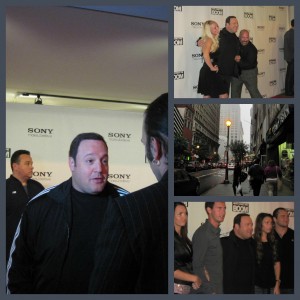 Personalmente me gusta ver actuando a Kevvin James, por eso tenía la inquietud de saber si era tal y como en las películas. ¡Y claro! en las películas tiene que actuar, pero su actitud con los demás se asemeja mucho a cómo me lo imaginaba poque es una persona muy comunicativa, sencilla y de mucho carisma.
"Here comes de boom" estará en los cines a partir del 12 de Octubre.
Disclosure: Este post no ha sido recompensado económicamente, Fuí una invitada VIP para ver la película y todas las opiniones en este post son pesonales.