Ten years ago, before I had my kids, I had the opportunity to teach Spanish in a few elementary schools in Bucks County, Pennsylvania. We only had a sequence of themes to follow and we had to work ourselves on the rest of our curriculum.
I realized then, that there was a huge need for a good curriculum for teaching the Spanish language at this level.  Spanish teachers in elementary and middle schools usually have to work on their own lesson plans hours and hours during the weekends,  and we're not including music, crafts, and activities. It's like trying to complete a puzzle where we have the knowledge and skills but we need more resources to get the students engaged in learning a second language.
When I decided to do this review I was thinking of how useful it can be for a Spanish teacher to follow a good guide, to get more ideas from an expert and to focus more on your own goals for your class.
Laura Anaya de Zuchovicky is the author of Conversa Books Teacher's guides and workbooks. Laura was born in Mexico and her vast experience as a Spanish teacher in the U.S. has led her to create this collection of guides and workbooks for teaching Spanish from kindergarten through middle school.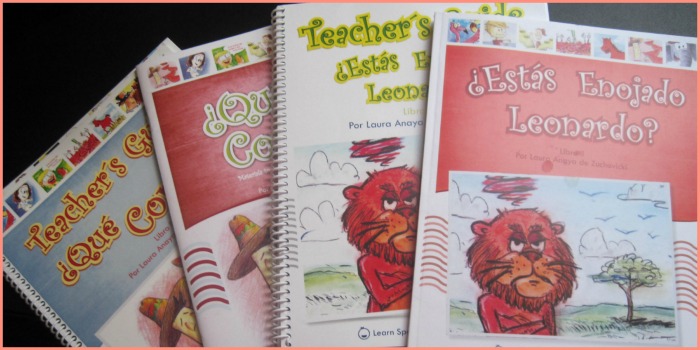 This collection contains a teacher's guide and a workbook for each level – beginners, intermediate and advanced.
Converse motivates students to learn to communicate orally and then in advanced levels it slowly introduce writing.  The teacher's guide contains activities that are very positive for learning Spanish. Within each lesson it includes gestures to use to teach the meaning of sentences and / or words making it easier to learn the meaning instead of using English to describe the word or action.
What I like about Conversa Books, is that it also includes various games and cultural activities where students not only learn the language but also about the culture of Spanish-speaking countries.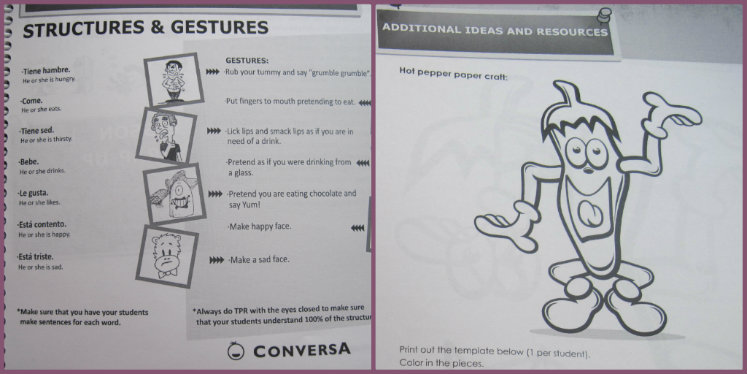 Conversa Books can be a great help to develop a fun and easy approach to teaching and learning learn Spanish, however it doesn't mean that as a teacher you are going to have everything you need in this guide.  Teachers should supplement the guide with tools to support learning for each lesson.  The content and ideas from the teacher's guide is surely a great resource that will allow you to focus more on the success of your students.
Hace diez años, cuando todavia no tenia hijos, tuve la oportunidad de enseñar español
en algunas escuelas primarias en Bucks County, Pennsylvania. Fue ahí que me di cuenta que había una necesidad enorme de
contar con un buen currículum para la enseñanza de este idioma, sobretodo a
nivel primario. Los profesores de español en escuelas primarias en la mayoría de los casos tienen que crear su propio plan de clases lo que puede tomar muchas horas fuera del horario de trabajo, y eso sin incluir el tiempo para buscar la música, planear manualidades, etc.
Por eso, cuando decidí revisar estos libros, pensaba en la ayuda enorme que es para un profesor en contar con una buena guía, obtener ideas de profesores con bastante experiencia, y asi enfocarse más en sus metas para con su clase.
Laura Anaya de Zuchovicky, es la autora de los libros Conversa, que consta de Guías para profesores y cuadernos de trabajo para los alumnos. Laura nació en Mexico y  su vasta experiencia como
profesora de español en los Estados Unidos la llevó a crear esta colección dirigida para alumnos desde
Kindergarten hasta Middle school en los niveles de Inicial y Avanzado.
Estos libros Conversa motivan al alumno a la comunicación oral, para luego poco a poco incluir las habilidades de escritura. La guía para profesores por otro lado, incluyen actividades que personalmente me parecen muy positivas para el aprendizaje del español. Dentro de cada lección se utilizan determinados gestos para dar a conocer el significado de la palabra u oración, haciendo esto más facil de recordar y evitando asi el uso de la traducción al inglés.
Lo que me gusta de estos libros, es que también incluyen diversos juegos y actividades culturales con los que el estudiante no solo aprende a hablar en español, sino que también aprende sobre la cultura de los paises hispano hablantes.
Conversa Books puede ser de gran ayuda para desarrollar una clases de una manera fácil y divertida, aunque esto no significa que no se tenga que buscar recursos extras para la clase. 
Para
saber mas sobre esta colección de los libros pueden visitar
la página de Conversa Books.