Desde que mis hijos eran bebes, Sesame Place se convirtió en nuestro refugio para los dias calurosos del verano. A solo 10 millas de donde vivimos, mi familia y yo nos sentimos con mucha suerte de tener este lugar mágico a solo unos minutos de casa.
Pero no sólo se conviritió en un lugar en donde pasar el verano sino luego vinieron las festividades de halloween, y por supuesto la navidad.
La semana pasada
Sesame Place
organizó el Media Day y  junto a mi familia fuimos a disfrutar nuevamente de la celebración de la temporada "
Halloween Spooktacular"
 y saben quien nos dió la bienvenida? Count! (El conde contar) quien entre los amigos de Elmo es siempre la estrella por Halloween, Y aunque se vean telarañas por aqui y por alla y las divertidas calabazas, todo es
completamente apropiado para los pequenos.

La diversión comenzó  desde la llegada, cogimos un mapa y nos dirigimos a buscar los lugares para trick or treat, si! dulces gratis! Sin embargo por el camino no pudimos evitar el contemplar todas las calabazas pintadas por los visitantes. ¡Que talento!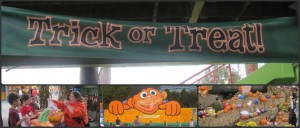 Los laberintos de Abby y Count son super divertidos y quizás los favoritos de Halloween Spooktacular!

Dine with me!
Una buena opción para cenar y compartir con los personajes de Sesame Place en un ambiente mas privado es Dine with me! La semana pasada todos nos divertimos mucho bailando y cantando con Big Bird, Elmo y Count!
Halloween Spooktacular hasta el 28 de Octubre. Para mayor información sobre lo nuevo de la temporada pueden vistar la página de
Sesame Place
Disclosure: Sesame Place me invitó a asistir al evento "Media Day". Este post no ha sido recompensado económicamente y todo lo escrito es solo mi experiencia personal.