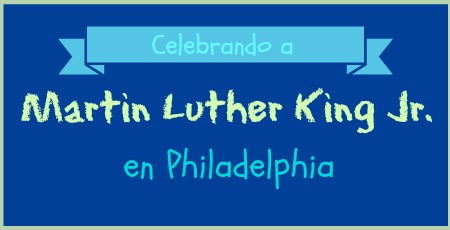 Cada tercer lunes de enero,  los Estados Unidos celebra la vida y las enseñanzas que no dejó el Dr, Martin Luther King. Ese día es también conocido como el Dia de Servicio (Day of Service),  en el que diversas  organizaciones e individuos realizan eventos de ayuda  y recibo de donaciones en beneficio de los que más necesitan dentro de su comunidad. Si quieres ser voluntario o voluntaria, puedes visitar la página  
http://www.mlkdayofservice.org/
para buscar algún proyecto cerca de donde vives o también puedes buscar en Google como "Day of Service in (el nombre de tu ciudad)" y podrás encontrar los lugares que tienen actividades para el "Day of Service".
Ese mismo lunes e incluso dias antes, también se realizan eventos en la ciudad de Philadelphia para honrar a Martin Luther King . Estos son algunos de ellos:
Orchestra 2001
New Music Celebrations of the Life of Dr. Martin Luther King, Jr.
Sábado 18 a las 8:00 p.m
Tickets desde $15 a $35
Lunes 20 de enero  1:30 p.m. –  Capilla del Girard College
Honrando con música la vida de Martin Luther King. Se recibirán donaciones de artículos escolares para donarlos a las escuelas locales.
Lunes 20 de enero de 10:00 a.m a 3:00 p.m.
Actividad incluida con el pago de admisión, Adultos $20 – Menores de 12 no pagan
Hacer un arte, manualidad que será luego distribuido a organizaciones de servicio en Philadelphia.
Martin Luther King Sharing the Heritage Celebration and Day of Service
Lunes 20 de enero de 11 a.m a 5 p.m.
Un dia completo de actividades para toda la familia.
Admisión Gratuita.
Lunes 20 de enero  9:30 a.m. –  5:00 p.m.
Como parte de su serie Macy's family events ese lunes la admisión será de $5 que incluye las actividades del dia.
Manualidades, presentaciones y el último dia por si quieren donar útiles escolares para las escuelas de Philly.
Lunes 20 de enero 11:00 a.m. – 2:00 p.m.
Diversión de la mano con la educación, este museo ese dia incluirá el discurso de MLK "I have a dream".
Adultos $16.50
Niños $14.00
Lunes 20 de enero de 10:00 p.m. – 5:00 p.m.
Convierte tus palabras en arte, con la ayuda de los muralistas Keir Johnston y Ernel Martinez. 
Ese dia la entrada es gratuita.