Una tarjeta, unas flores, unos snacks, una tarjeta de regalo, etc. Hay una infinidad de formas de decirle a los maestros lo mucho que valoramos el trabajo que hacen. Aprovechemos esta "Semana de reconocimiento al maestro" (Teacher aprecciation week) para expresarle nuestra gratitud.
Luego de buscar y rebuscar muchas ideas de regalos en Pinterest, encontré una combinación de lo que para mi era algo que podía hacer con mis hijos. Aquí se los comparto:
Compramos unos vasos súper lindos y de buena calidad que no costaron mas de $6 dólares cada uno.
Compramos pretzels en palito y chocolate y junto a mi hijo el mas chiquito, nos pusimos a cubrir los pretzels y bañarlos con grageas o sprinkles (¿asi se dice en tu pais?).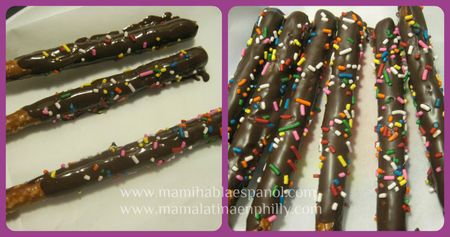 Los dejamos secar y los colocamos en una bolsa de plástico, los que se usan para las sorpresas de las fiestas infantiles.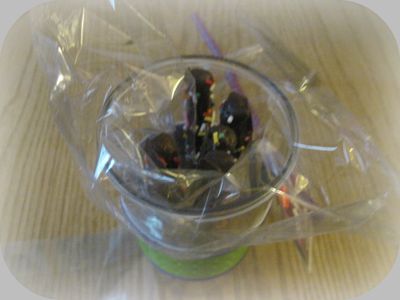 Colocamos una cierta cantidad en los vasos y luego pusimos todo en otra bolsa de plástico.
Imprimimos la forma de una manzana y escribimos un pequeño mensaje para cada una de sus profesoras. Y éste fue el resultado final 🙂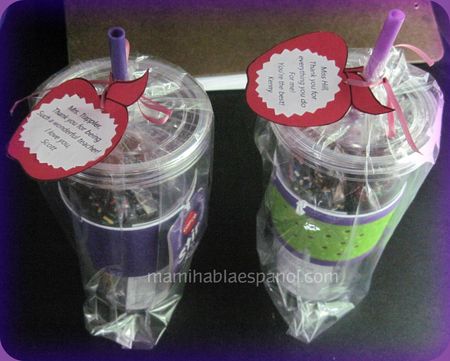 If you are a teacher have a a Happy Teacher Appreciation Week!, THANK YOU for all the great work you do all year long!
My special gratitude to Miss Hill  (Kindergarten) who is very sweet and nice, thanks for teaching my son to become a good reader!, and a big thanks to Mrs. Trappler (2nd Grade) who is a great teacher, always working with parents to improve the academic level of our kids.