Ya casi está todo listo para "Thunder Over the Boardwalk", el show aéreo más esperado en este lado del país.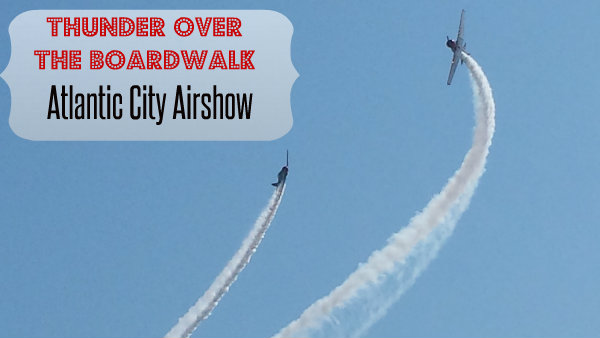 Este evento organizado por el Greater Atlantic City Chamber,  es un evento familiar completamente ¡gratuito!.
Thunder Over The Boardwalk 2014, se realizará el miércoles 13 de Agosto, y es el tercer año consecutivo al que nosotros nos preparamos para ir, anteriormente se realizó en las primeras semanas del verano, pero aún en estos dias se puede disfrutar del calor, del mar y de un atractivo paseo por el malecón (boardwalk) de Atlantic City.
La primera vez que asistimos a este evento, no teníamos idea de lo que ibamos a ver, sin embargo, apenas nos acercamos al malecón sentimos el ambiente de fiesta, y luego un show especatular cubria los cielos de Atlantc City.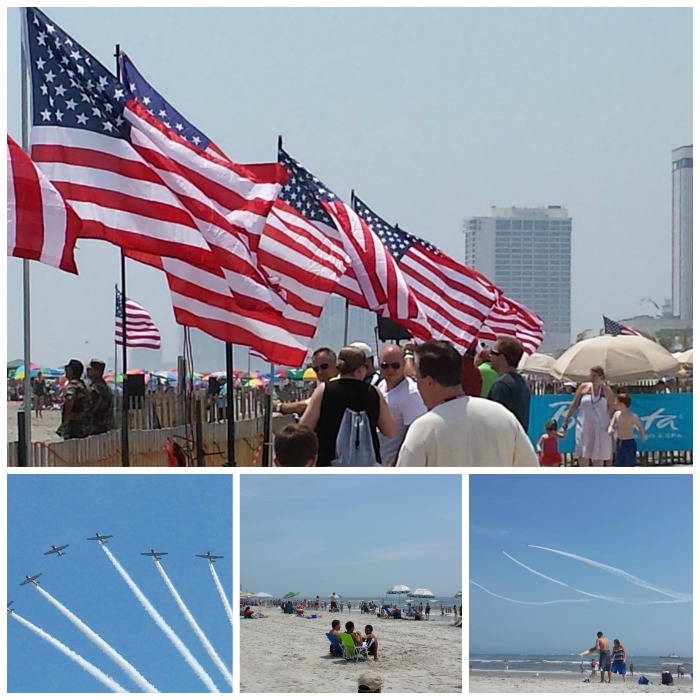 Este año el show comenzará a las 11:30 de la mañana y la lista de los participantes es la siguiente:
 11:30 Tow banner planes
11:45 2014 Airshow Surprise Pre-Show Demonstration
12:00 US Army Golden Knights Flag Jump with National Anthem
12:08 US Army Golden Knights Mass Exit Show
12:18 Andrew McKenna P-51 Demonstration
12:28 US Coast Guard Search & Rescue Demonstration
12:40 Jim Beasley Jr. Spitfire Demonstration
12:50 Jason Flood Pitts S1S Demonstration
1:02 Jack Kelly, 1951 Bell 47 Helicopter Model D1
1:05 Atlanticare Medical Helo Flyby
1:07 MidAtlantic MedEvac Helicopter Flybys
1:09 6ABC New Chopper Flyby
1:11 USMC AV-8B Harrier II Demonstration
1:22 Geico Skytypers
1:38 Geico Skytypers vs. Geico Speedboat Race
1:43 Warrior Aviation L-39 Demo
1:53 Raiders Airshow Team
2:10 FAA William J. Hughes Aircraft Flybys (2 passes – (2) CONVAIR
2:15 Jim Beasely Jr. T-6 Texan Aerobatic Demonstation
2:25 Rob Holland MXS Aerobatic Demonstration
2:40 US Army Golden Knights Mass Exit Show
3:05 USAF Thunderbirds
4:00 Airshow Ends
Recomendaciones:
Llegar antes de la hora de inicio para poder encontrar parking y poder ubicarse en un lugar preferido que permita observar el show al mismo tiempo que disfrutar de un dia de playa.
DO AC tiene un listado de parqueos disponibles asi como los precios y los puedes ver AQUI
Aunque el ruido de los aviones es fuerte y la mayoría de los asistentes no necesita de tapones para los oídos, sin embargo es recomendable llevar algunos para los pequeños.
Asegúrate de llevar bastante bloqueador solar y abundante agua para beber.
En el malecón hay bastantes lugares para comprar comida rápida, aunque si prefieres, puedes llevar tus propios alimentos, sandwiches y snacks.
 ¿Cómo se llega de Philadelphia a Atlantic City?
En auto toma menos de 1:45 minutos
En tren, se puede tomar el tren de NJ Transit desde la estación 30th St. en Philly, el viaje toma 1.45 minutos aproximadamente y los tickets cuestan $10 Adultos y $4.50 los niños
En bus, se puede optar por el Greyhound que sale de Broad St. Los pasajes cuestan $12 y se pueden comprar en linea.
 ¿Entonces…estamos listos para asistir a este gran evento? Nos vemos en Atlantic City!'
Para ver más imágenes del Thunder over the Boardwalk, puedes ver mi post del año pasado
AQUI
Para obtener más información del evento puedes visitar la página de
DO AC
.
Acalaratoria: Mamá Latina en Philly recibe pases de Media por la elaboración de este post. El contenido y opiniones del show son completamente mios.