Los dias previos al verano siempre han sido emocionantes para nosotros porque es cuando se dan a conocer muchas de las nuevas películas que se estrenan para la temporada veraniega.
Una de las peliculas favoritas de mis hijos siempre ha sido The Incredibles (Los Increibles) que se estrenó en el 2,004, y a pesar de que mi hijo menor ya tiene doce, se alegró al saber que luego de todo este tiempo regresa una segunda parte de este y justo para este verano.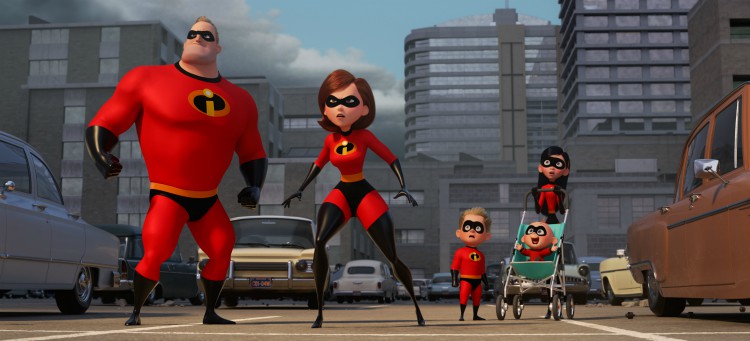 En esta nueva película, Helen (en la voz de Holly Hunter), es la encargada de realizar una campaña para traer de regreso a los super heroes, mientras que Bob (en la voz de Craig T. Nelson), se pasa sus dias haciendo una vida "normal" en casa con sus hijos Violet (voz de Sarah Vowell), Dash (voz de Huck Milner) y el bebé Jack-Jack del cual pronto se descubriran sus super poderes. Sin embargo, su misión se ve en peligro, cuando aparece un nuevo villano con un plan brillante y peligroso que amenaza todo lo planeado hasta entonces.

A pesar de los incovenientes, los Parrs no se aminalan a alcanzar sus propósitos, especialmente si tienen a Frozone a de su lado (en la voz de Samuel L. Jackson). Eso es lo que hace a esta familia tan Increible.
Esta nueva producción de Disney-Pxar es:
Dirigida por Brad Bird ("Iron Giant," "The Incredibles," "Ratatouille")
Producida por John Walker ("The Incredibles," "Tomorrowland")  y
Nicole Grindle ("Sanjay's Super Team" short, "Toy Story 3" productora asociada)
Y para hacer la película aún mas emocionante y divertida, te invito a usar estas actividades que se pueden realizar antes o luego de ver de la película. Son dibujos para colorear, juegos, y hasta cupones de los Increibles para que tus pequeños te ayuden con las tareas del hogar.  Estos imprimibles son muy divertidos!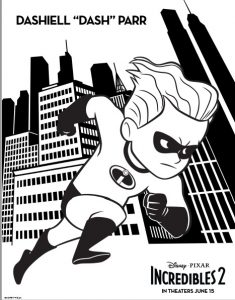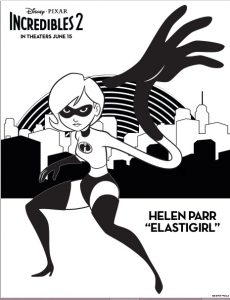 Bajar para imprimir AQUI                                                              Bajar para imprimir AQUI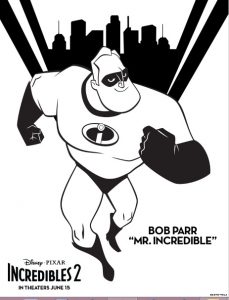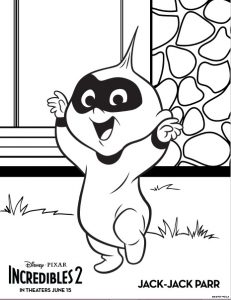 Bajar para imprimir AQUI                                                           Bajar para imprimir AQUI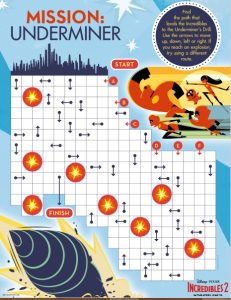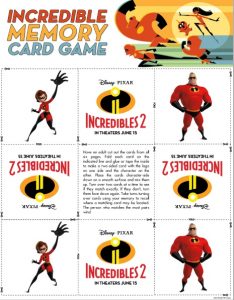 Bajar para imprimir AQUI                                                              Bajar para imprimir AQUI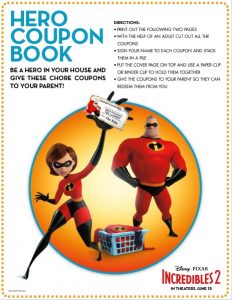 Bajar para imprimir AQUI
The Incredibles 2 se estrenará en los cines este 15 de Junio.